These sets of 5 needles - now in NINE sizes from 1.5mm to 3.5mm (US0000 to US4) have the feel of bamboo, as strong but more flexible than steel, feel warm to the touch and are non-allergenic. The addition of 3mm needles for UK knitters was made possible after feedback from YOU!
Made of a unique carbon fibre composite material, Blackthorn needles are designed to stand up to your most demanding knitting projects and gauge.
Blackthorn DPNs have pointy tips, are warm in your hands and are smooth, not slick like steel or aluminium. They won't fall out of your knitting!
These sets of five needles are now presented in a clear plastic pillow box - great for presentation and storage.
If you are just ordering Blackthorns in the UK, they qualify for "large letter" postage!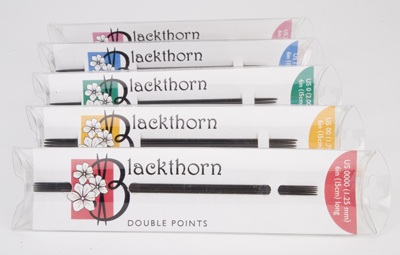 Explore your knitting universe with
the aerospace needles that are flexible,
lightweight and very, very strong.