JUST ARRIVED
The long awaited Ultra Fine Lace Blocking Wires are here. Available in Long and Super Long, these amazing flexible wires can be stored in a space saving curled up state until your blocking needs them.
Adriafil's 2ply Zephir 50 is machine washable and is perfect for an heirloom shawl or wrap. It can be knitted with beads, several strands at a time or blended with another yarn.
The luxurious Alpaca Silk 4ply is available in 16 shades including the beautifully named Lily Pad. The accompanying booklet has eight garment patterns by designers such as Anniken Allis and Ana Sanchez-Forner.
Flatter is a new linen smoothing spray from our friends at Soak®. Available in four delicious fragrances, including new Fig.
BRITISH KNITTING AWARDS 2014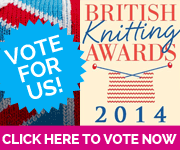 You lovely, lovely people!
We've been nominated under the category "Best Ready to use Knit Kits" in this year's Let's Knit British Knitting Awards. Voting is open from 4th July until 14th September and we'd love it if you could vote for us (you could be in with a chance to win £500 worth of knitting related prizes too).
Thank you again for your support, to win in 2013 and be nominated in 2014 is a huge accolade and is really very much appreciated.
COME AND SEE US
We're going to be busy over the coming months especially with two new shows fast approaching; The Bristol Wool Fair 5th 6th 7th September and Kirstie Allsopp's The Handmade Fair 19th 20th 21st September where we will be exhibiting on stand A13. Different shows but the same passion for our lovely knitting craft.