Just Arrived
At last the Blocking Wires are here - Ultra Fine and Ultra Fine Super Long - £27.95 per set. We've also taken delivery of the ever useful WPI Tool Kits - ideal for spinners or if you've lost the ball band and need an indication on the needle size.
Adriafil's Zephir 50 is a 2ply yarn with a super generous 1200m that can be knitted as a single strand or doubled-up, perfect for combining with beads and just the thing for these hot sunny days.
For the knitter in your life, we have introduced two new word search greetings cards - Knit and Sock.
Summer's Here
This lovely weather is just right for lighter weight knits. Our Camelot Superfine Kid mohair is a fabulous affordable alternative to Kid Silk Haze or Debbie Bliss Angel. Available in 10 solid shades, including White and Hot Orange. A sweet summer project is this summer cowl, first featured in Simply Knitting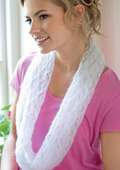 . For other hot weather projects, why not think about using linen, cotton or silk blends? These yarns lend themselves well to simple lace patterns so it's a great opportunity to practice those yarn overs and decreases.
Artesano's new Alpaca Silk 4ply is a lovely yarn to knit with and there are 16 charmingly named shades to choose from. The accompanying pattern book has eight garment designs by Anniken Allis, Julie Ferguson, Ana Sanchez-Forner and Rita Taylor.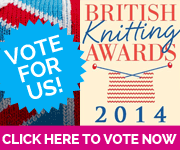 You should start to see a selection of our award winning knitting knits in your local shops and High Streets over the coming months. Thank you again for our nomination under "Best Ready To Use Knit Kits" in the 2014 awards. This is a huge accolade and a testament to the hard-working team behind The Little Knitting Company.

New projects and collaborations are always in the pipeline and we welcome new designs and designers - do please get in touch!

Fun for the summer, we have just launched Helen Ardley's sweet placemat and coaster set knit kit. Knitted in cotton tape, they are machine washable and fun to knit too!
Come And See Us
Our annual Summer Open Day will be held on Saturday 26 July from 11am until 4pm at our "local". Only recently re-opened after last year's tragic fire, the pub has been refurbished to an extremely high standard, the natural light floods into the restaurant with bi-folding doors making access much easier for all. We can't wait to see you there. Don't forget to bring your knitting!
At The Little Knitting Company we specialise in the supply of premium classic and fancy hand knitting wool and yarns sourced from top Scottish and Italian spinners and mills including 100% extra fine merino wool yarn, grade-A 100% cashmere, super fine kid mohair, 100% angora, angora blends, organic and ecologically dyed merino wool and cotton, baby camel yarn, virgin geelong wool and woollen blends to discerning hand knitting fanatics and crochet fans everywhere.
Much of our wool and yarn is sold in 250g (that is, 5 of 50g balls, hanks or skeins) and 50g, with a discounted price for the 250g option. The price shown against the product is the total price you will pay; each wool and yarn item description includes the weight of either 250g, 100g, 50g or 25g.
Cast On! Knitting Group meets every 2nd and last Wednesday of the month from 7pm at the Horse and Jockey, Faringdon Road, SN7 8NN. Next meeting dates Wednesday 25th June, 9th and 30th July, 13th and 27th August.
Come and find us at these knitting events in 2014:
| | |
| --- | --- |
| Date(s) | Name of Show |
| 13-16 March | Knitting and Stitching Show, Olympia |
| 27-28 June | Woolfest, Cockermouth, Cumbria |
| 12-13 July | Unwind, Brighton |
| 26 July | Summer Open Day, Stanford in the Vale |
| 5-7 September | Bristol Wool Fair |
| 19-21 September | Kirstie Allsopp presents The Handmade Fair, Hampton Court Palace |
| 9-12 October | Knitting and Stitching Show, Alexandra Palace |
| 4-9 November | Spirit of Christmas, Olympia |
| 12-16 November | Country Lving, Christmas Fair |
| 20-23 November | Knitting and Stitching Show, Harrogate |
Follow @lkco