Subabul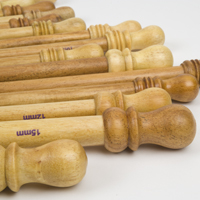 Subabul [Leucaena leucocephala] is used for a variety of purposes including fire wood, fibre, livestock feed and shade for crops such as coffee. Considered as a renewable energy source (biomass), it is also efficient at nitrogen fixation. However, this hardwood can also take over and become unwanted. The wood for our needles is sourced from farms and, if available, from forest department auctions. It is not a plantation grown crop.
Our natural wooden knitting needles are a joy to use, light and flexible (in the smaller sizes). They have been lovingly polished to enhance the natural wood grain and have a polyurethane top coat for a smooth finish.
These Subabul needles are hand-made and as such there will be slight variations, which should be considered a characteristic rather than a flaw. They are also hand-printed with metric sizes.
Starting at 2.75mm up to a mighty 20mm. The grain in this wood varies enormously making them an attractive addition to your needle collection. Dark yarn shows up beautifully against the pale wood.