Rosewood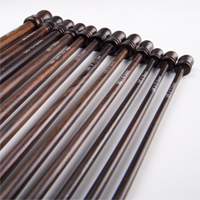 It is with regret that we have to announce that CITES regulations prevent us from acquiring further stock of these beautiful knitting needles.
We await the delivery of a new alternative dark hardwood which we feel sure will be well received.
These knitting needles are a joy to use, light and flexible (in the smaller sizes) with a sharp tip. They have been lovingly polished to enhance the natural wood grain and have a polyurethane top coat for a smooth finish.
These needles are all hand-made by a micro-company from responsibly sourced Indian rosewood and as such there will be slight variations which should be considered a characteristic rather than a flaw. They are also hand-stamped with metric and USA equivalent sizes (where appropriate).
Here you will find:
10in/25.5cm short, 12in/30.5cm medium, 14in/35.5cm long and 16in/40.5cm extra long straight knitting needles from 2.75mm to a mighty 20mm. 7.5mm (old UK1) recently added to our range.
We also stock a unique shorter range of straight knitting needles in sizes 2.75mm, 3mm, 3.25mm, 3.5mm, 3.75mm, 4mm, 4.5mm and 5mm in 6in and 3.25mm, 4mm, 4.5m and 5mm in 8in lengths - perfect for knitting fancy edgings, skinny scarves, cardigan borders or toys.
We offer three lengths of DPN (double pointed needle). 5in - perfect for socks and gloves, 7in and 10in long. Knitting in the round is hugely popular but not everyone enjoys using circular needles, sometimes, knitting sleeves or the tops of hats is just plain easier using DPNs.
This is the last of the remaining stock, please note, there will be no more once this has gone.