Albizia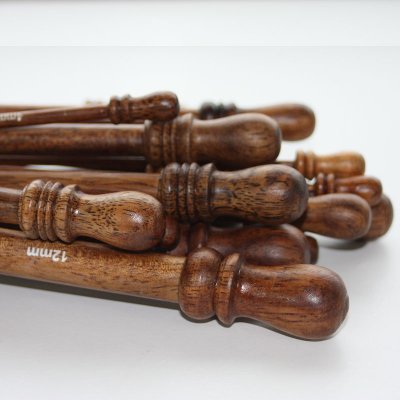 Our acclaimed replacement for rosewood, Albizia, also referred to as East Indian Walnut. Beautiful dark hardwood.
These knitting needles are a joy to use, light and flexible (in the smaller sizes) with a sharp tip. They have been lovingly polished to enhance the natural wood grain and have a polyurethane top coat for a smooth finish.
These needles are all hand-crafted for The Little Knitting Company™ (TLKC) by a micro-company in Southern India and as such there will be slight and subtle variations which should be considered a characteristic rather than a flaw. They are also hand-stamped with metric and USA equivalent sizes (where appropriate).
Wood has natural flex which makes for a more enjoyable knitting experience than using inflexible long plastic or metal needles. Our hands are extremely strong and the tension that can build up in our finger joints, wrists, elbows and shoulders when using unyielding materials soon makes its presence felt.