Interchangeables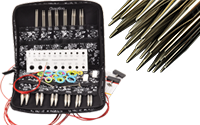 Tips, cables, connectors, end stoppers, T-shaped tightening keys, stitch markers, a needle gauge and an attractive compact zipped fabric case are all included with ChiaoGoo's interchangeable sets.
If you want supremely manufactured surgical stainless steel then you want TWIST products. The red lace cables are memory free and have lifeline holes. TWIST tips are user-friendly to knitters who are sensitive to nickel.
If you want bamboo then SPIN is the range for you. Clear nylon SPIN cables allow the tips to swivel freely and have lifeline holes.